Quality
Our wines are crafted for your drinking pleasure using the best of traditional and modern techniques.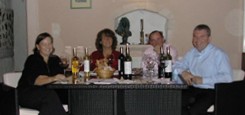 Our AOC Graves supérieures, a sumptuous spicy dessert wine, gives a long succession of flavours in the mouth balanced with good acidity. Made of semillon and sauvignon blanc, this wine combines their characteristics of richness and liveliness.
Our red wine, AOC Graves rouge, evolves from the aromas of red fruits and spices when young to develop an undercurrent of truffles as it matures.
Conviviality
We invite you to join us for the activity of your choice, from a simple visit to the Domaine through to a tasting and discovery stay in our beautiful and historical region.
It is our desire to ensure that you have a wonderful time discovering the South Gironde way of life.
Friendship